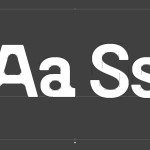 Bugrino
$25.00
Bugrino is a sans serif typeface with both sharp and soft finishes. The family contains six weights, which are Thin, Light, Regular, Medium, Bold, and Black.
It takes its name from an isolated island located in the south of Barents Sea. The initial design process started with the idea of harmony between sharp and soft lines and it is primarily inspired by the Blur and Huit typeface, with some sharp lines and unique symbols and characters.
While it is intended to appear blurred in text usage, at the same time, it is intended to look unusual and experimental due to its sharp edges in display usage.